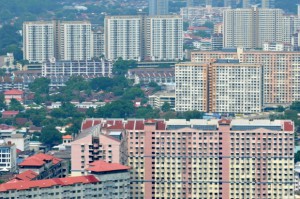 Penang's residential property transactions is expected to experience more than 5% contraction this year compared to 2016.
Raine & Horne Malaysia senior partner Michael Geh tells StarBizWeek he is projecting a more-than-five-percentage dip in residential transactions in 2018 although there is "still strong interest and confidence" in Penang.
The first half of 2017 saw residential volume of 5,697, compared to 6,698 in 2016, a drop of 15%.
"The value of transactions for residential homes in the first half of 2017 was around RM2.45bil, compared with RM2.65bil in 2016's first half," Geh says.
"In the second quarter of 2017, the transaction for all types of properties in Penang was 3,881 units, a drop of about 3% from 4,003 in the first quarter.
"The contraction is slight, which shows that there is confidence still in the local property market," he adds.
Following the recent Penang floods, he expects fewer projects to be launched in 2018 as developers redraw strategies while awaiting new housing guidelines from the state. This is particularly for those areas near hills and in flood prone zones.
"All this could slow down property transactions over the next 12 months. We may even prices drop below market price near hill slopes and in flood prone areas. This could happen if sellers are determined to let go of their properties," Geh adds.
Depending on the stringency of the guidelines, he says the cost of developing projects near the hills could be very high as a result of new safety measures imposed.
"Demand for properties on flat grounds would rise, pushing up prices for such properties. Buyers would be extra cautious with hill slope/flood prone areas. This is another factor that could contribute to slower and lower transactions.
The sub-sale price of high-rise properties on the island has either stagnated or contracted slightly since 2014.
In Tanjung Bungah, current prices are between RM720,000 and about RM1mil, depending on the size and location.
In Batu Ferringhi, it is between RM620,000 and RM820,000 for a high-rise unit, while the selling price of a detached landed property could range from RM2mil to RM2.7mil, depending on size and location of the properties.
In Paya Terubong, a high-rise unit was transacted between RM230,000 and RM435,000. In Jalan P. Ramlee, the selling price of a high-rise unit may have a wide range of between RM125,000 and RM405,000.
Henry Butcher Malaysia (Seberang Prai) Sdn Bhd associate director Fook Tone Huat says the floods affected some of the more popular locations.
"The demand for properties in these areas is likely to be impacted during this transitional period as Penangites try to get back to routine.
"However, after a period of time, coupled with the remedial actions taken against the floods, buying interest will normalise," Fook says.
These include locations in central Seberang Prai such as Sungai Rambai and Padang Lallang, Juru and part of the Alma areas. In north Seberang Prai, the popular area of Sungai Dua has also been affected.
Landed terraces in Taman Pauh, Taman Sejahtera and Taman Bayu Mutiara have risen by between 26% and 29% since 2014, when the slowdown started.
In north Seberang Prai, the pricing of landed terraces has risen by 11% to 33% since 2014.
Land prices in central and north Seberang Prai are now priced between RM50 per sq ft and RM130 per sq ft, about 5% to 10% higher than in 2014. The increase in land costs has translated into higher prices.
"New double-storey terraced units in south Seberang Prai are now priced between RM400,000 and RM500,000, which is 5% to 10% higher than in 2014.
"Double-storey terraced houses in prime locations of central and northern Seberang Prai have also increased by 5% to 10% to RM450,000 to RM650,000," he adds.
Source: TheStar.com.my